---
Enveloped by the majestic Aravalli hills, Hotel Fairmont Jaipur is a luxuriant hotel that offers an unmatched blend of grandeur, heritage, and sophistication. Here is a comprehensive guide on the various transportation options available, along with directions to ensure your journey to this remarkable property is as smooth as possible.
By Air
Hotel Fairmont Jaipur is located approximately 27.5 kilometers from Jaipur International Airport, the primary airport serving Jaipur, making it accessible to guests traveling from both domestic and international destinations. The hotel provides a luxurious and comfortable airport transfer service upon request. Alternatively, guests can hire a taxi or use ride-hailing services like Uber or Ola for a convenient journey to the hotel.
By Rail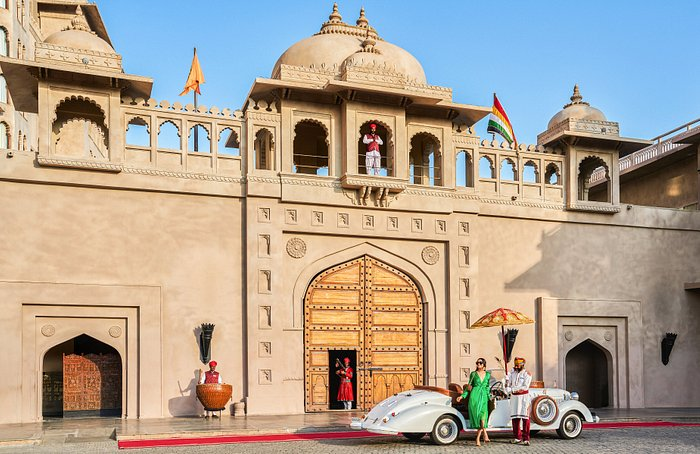 For those arriving by train, Jaipur Junction railway station, situated about 16 kilometers away, is the nearest railway station to Hotel Fairmont Jaipur. Pre-paid taxis, auto-rickshaws, and ride-hailing services are readily available from the railway station. Additionally, the hotel can arrange for a pick-up service on request.
By Road
If you're planning a road trip to Hotel Fairmont Jaipur, the hotel is conveniently accessible via Delhi-Jaipur National Highway 48. Driving from Delhi takes approximately 5-6 hours, making it suitable for guests who enjoy long scenic drives.
Directions to Hotel Fairmont Jaipur
From Jaipur International Airport: Upon exiting the airport, head southwest on Jawahar Circle towards the Radisson Blu Hotel. Proceed straight, following signs for NH21/NH248. Continue on NH248 for about 15 kilometers until you see signs for the Hotel Fairmont Jaipur, which will be on your right.
From Jaipur Junction Railway Station: Head southeast on Station Road upon leaving the station. Take a left turn onto Jaipur Road and continue straight onto MI Road. Follow signs for NH21/NH248, continuing for about 14 kilometers until you see signs for the Fairmont Jaipur, which will be on your right.
In addition to these options, Hotel Fairmont Jaipur also provides limousine services, offering an extra layer of luxury and convenience for its guests. The hotel concierge can assist with arranging these services.
Regardless of the transportation mode you choose, Hotel Fairmont Jaipur ensures a hospitable welcome, offering guests a delightful first impression of the regal experiences that await within its premises. The hotel's strategic location, combined with these accessible transportation options, makes it an ideal destination for both local and international guests seeking a luxurious getaway.