In the Pir Panjal range of the Himalayas, the romantic valley of Gulmarg is located 8,825 feet above sea level, and nestled among its splendor lies a world-class resort deserving of this beautiful setting. The Khyber Himalayan Resort & Spa is located over seven acres and surrounded by coniferous forests, with magnificent views of the Affarwat Peaks, making it ideal for hosting a perfect exotic destination wedding.
This magnificent resort, a world apart from the every day, offers the most stunning and picture-perfect location for any special occasion. In this blog, you will learn everything there is to know about organizing a flawless destination wedding at The Khyber Himalayan Resort & Spa. 
Let's dive in!
About Khyber Himalayan Resort & Spa

The Khyber Himalayan Resort & Spa is a world-class resort that perfectly captures the majesty of its stunning setting. With opulent décor, delicious cuisine, and calming treatments at The Khyber Spa by L'Occitane, this 85-room resort is a world away from the ordinary, meant to pamper you in every way. In the winter, you can ski on some of Asia's best slopes, while in the spring, you can hike and picnic through unspoilt woods and flower-strewn meadows, or play golf on the world's highest course. The Khyber is a wonderland at any time of year.
The Venues
For any event, the Khyber has over 10,000 square feet of magnificent locations and settings for wedding. The velvety warmth of the indoor banquet areas can be adjusted to your event's needs. The Khyber is well-equipped to be ideal at any time of year. 
➢ Paradeez Gardens

The Paradeez Gardens, with its cascading waterfalls and Himalayan peaks as a backdrop, are ideal for a beautiful outdoor feast.
➢ Chaikash
The beautiful tea lounge at Chaikash extends onto an open-air terrace with views of the mountains.
➢ Nouf
Nouf offers a covered terrace with spectacular views of the forest and snow-capped mountains.
➢ Banquet Hall

The banquet hall features a spacious indoor space with high ceilings and carpeting that is ideal for wedding celebrations. 
The Accommodations

Khyber Himalayan Resort is a one-of-a-kind facility that provides just what customers require. Keeping this in mind, the resort has created five distinct sorts of accommodation options to meet the demands of different types of guests. Premium Rooms, Luxury Balcony Rooms, One Room Luxury Cottages, Two Room Luxury Cottages, and Presidential Suites are just a few of the options. All of these accommodation alternatives have been developed by professional decorators to fit the tastes of guests. They are also outfitted with all modern conveniences to offer guests total comfort and luxurious pampering during their stay.
Activities

In addition to what is available at the resort, the Khyber can help you organize activities and excursions in the scenic surrounds of Gulmarg. They will be pleased to set together an entertaining itinerary around your event because there is so much to do. Summer picnics with hampers, summer treks in the neighboring mountains, summer trips to historical and natural places in the vicinity, winter skiing, and snow sports, your guests can participate in any of these activities in their spare time. They can also provide expert guidance on some of the winter activities in Gulmarg.
The Food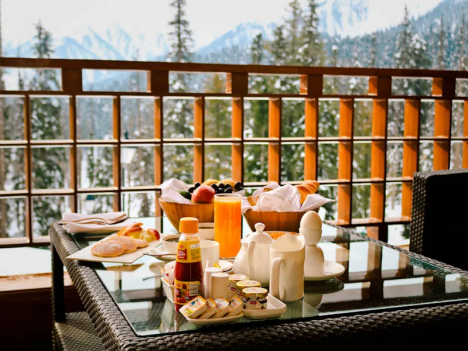 The Master Chefs of The Khyber Himalayan Resort & Spa are skilled to create great cuisine with a wide range of flavors. The Wazawan, or traditional Kashmiri wedding feast, is the most scrumptious and distinctive. This promises to be a once-in-a-lifetime experience, with a spectacular feast served on silver dishes. Their chefs' expertise encompasses a wide range of regional cuisines as well as international favorites. Special event dinners, such as weddings and huge banquets, are created and adapted to your preferences. 
Summary
The Khyber Himalayan Resort and Spa is a well-known star resort in Kashmir that attracts VIP guests and celebrities. The hotel is nestled in stunning surroundings, making it an ideal wedding venue for guests who want to enjoy the region's natural splendor. This resort has earned the admiration and respect of guests as a luxury retreat facility that caters to both nature lovers and adventure seekers. The Khyber will make the most stunning version of the magical wedding you've been thinking about. They will personalize your wedding to your specifications, no matter what style of wedding you have in mind.