Shimla lies in a beautiful setting, surrounded by verdant hills and the Himalayan range's snow-capped peaks. If you've ever been to Shimla, you know how breathtaking it is. With harsh cold mountains and luscious forest valleys, it's breathtakingly gorgeous. You can receive a fantastic backdrop for your photos, wedding-themed decor, and a lovely setting amid the beautiful surroundings, all of which are ideal for tying the knot. 
Fortune Select Cedar Trail in Shimla, Himalayas, is a perfect opportunity to immerse yourself in nature's romance. Allow your family and friends to enjoy your beautiful wedding in Shimla's Fortune Select Cedar Trail Mashobra. Any wedding ceremony held at this opulent location can attest to your wealth and social standing. A magnificent green expansive lawn and various dining venues would greet your guests. Contemporary decor, captivating lighting, ornamental plants, and grandeur in all would wow your guests. The venue's gorgeous décor adds a distinctive touch to your big day. In this blog, you'll learn more about Fortune Select Cedar Trail, which is ideal for having an exotic destination wedding. 
Let's dive in!
About Fortune Select Cedar Trail Shimla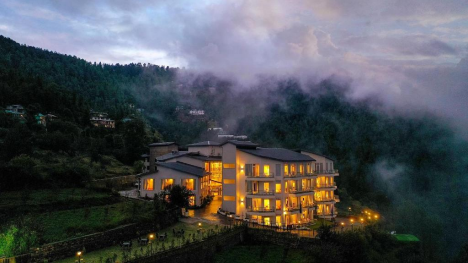 Fortune Select Cedar Trail is an affluent Himalayan mountain resort located in Shimla, a renowned wedding location. The hotel is set on 24 acres and is surrounded by cedar and pine forest trees. The charming hotel is hidden among the lush forest and is secluded from the din of city life, as its name
suggests. The hotel is ideal for those looking for a tranquil setting in which to have an unforgettable exotic destination wedding. It will allow you to detach from the crowds and spend quality time with your loved ones while also allowing you to explore lush foliage in the midst of nature.
A Beautiful Destination Wedding at Fortune Select Cedar Trail

Fortune Select Cedar Trail Mashobra, Baldeyan, Shimla is located along the Shimla-Tattapani-Mandi Road, in the Village Patengali area. This location is ideal for a perfect exotic destination wedding. It has a range of venues or rooms that can sit up to 250 people and can hold up to 400 people floating. Hall 1 has a seated capacity of 200 people and a floating capacity of 300 people. Hall 2 has a seated capacity of 120 people and a floating capacity of 200 people. Packages start at Rs 1200 per plate for vegetarian menus and Rs 1200 for non-vegetarian menus, with wedding decor provided by the venue.
Excellent Stay at Fortune Select Cedar Trail
Fortune Select Cedar Trail provides a variety of lodging alternatives for its guests. In its modern, trendy guest rooms, they provide all of the necessities as well as a variety of extras to ensure a comfortable stay.
➢ Executive Suite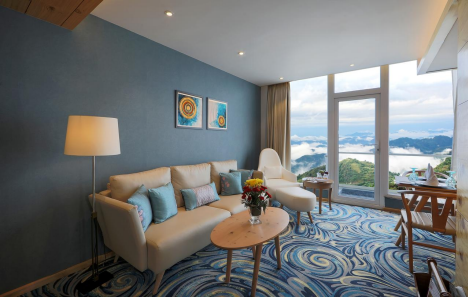 The Executive Suites provide a unique blend of luxury, design, and functionality. The Suites provide a separate living/dining area, a private workstation, and a four-fixture bathroom with everything you need. 
➢ Fortune Select Club Room

The Fortune Select Club Rooms are designed to give you a little bit more of everything. These rooms offer a premium experience and service on par with the city's "Best in Class" rooms.
➢ Deluxe Room

The deluxe rooms are tastefully decorated with warm and modern décor and are well-equipped with all the necessary conveniences for a wonderfully relaxing stay.
Delectable Dining
You can enjoy a delicious lunch without ever leaving the hotel. There is something for everyone's taste buds, whether it's health food, snacks, or gourmet cuisine. Stay in and order room service, visit Zodiac – An All-Day Dining Restaurant, or relax with friends at Neptune – the bar and lounge.
➢ Zodiac – An All Day Dining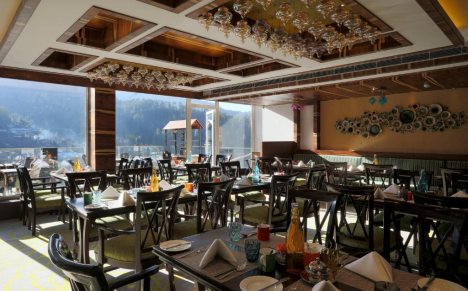 Zodiac, a flagship multi-cuisine restaurant with magnificent buffets, is located on Level 1 and overlooks the majestic Himalayas. You can enjoy a hearty and relaxed breakfast from a menu that includes Indian, Oriental, and Continental favorites.
➢ Neptune Bar & Lounge

The bar, which is located on the lobby floor, is a great place to relax and unwind with a great range of spirits, unique cocktails, wines, and beers. In the midst of the breathtaking Himalayas and pristine valleys, you can enjoy drinks and dine.
Conclusion
The Fortune Select Cedar Trail is a tranquil retreat on earth, surrounded by gorgeous and magical hills. This magnificent resort in Himachal Pradesh is the ideal setting for a destination wedding. This resort promises a once-in-a-lifetime experience. You will get a stunning view of the valley no matter where you are at the resort. While taking in the natural beauty of the place and spending quality time with your loved ones, plan your destination wedding at this location.