---
The Rambagh Palace in Jaipur, renowned for its regal splendor and historical significance, also houses some of the city's finest dining establishments. Each restaurant at the palace provides an exceptional gastronomic experience, blending the charm of royal Rajasthani culture with global culinary trends. This article will take you on a delectable journey through the restaurants in Rambagh Palace Jaipur.
Suvarna Mahal | Rambagh Palace Restaurant

The Suvarna Mahal is the epitome of royal dining. Housed in the palace's grand ballroom with its high ceilings, gilded mirrors, and Florentine frescoes, this restaurant in Rambagh palace jaipur serves an array of authentic Indian cuisines. The Rambagh Palace restaurant menu takes inspiration from the royal kitchens of Rajasthan, Awadh, Punjab, and Hyderabad.
The Rajput Room

Overlooking the beautiful palace gardens, The Rajput Room is perfect for breakfast, a light lunch, or an evening meal. It offers a mix of Indian and Continental cuisines in a relaxed ambiance, reminiscent of the royal hunting tents.
The Verandah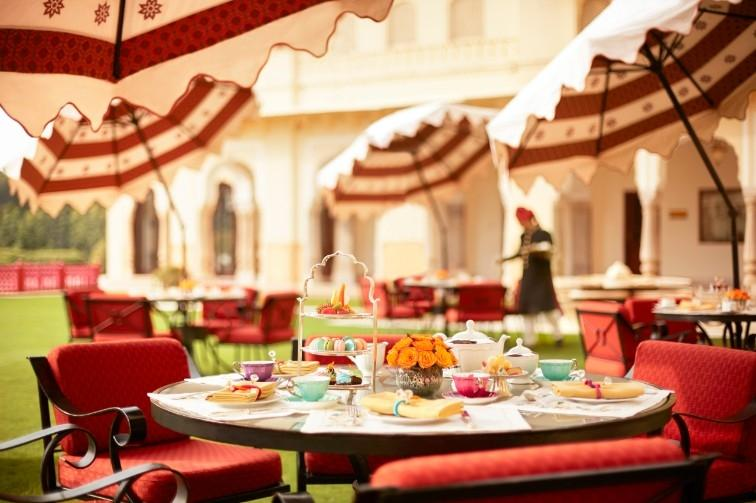 The Verandah offers an alfresco dining experience with views of the palace gardens and the city. It serves a variety of traditional Rajasthani thali and international cuisine, making it an ideal place for a leisurely evening tea or a quiet dinner.
The Polo Bar

Decorated with polo artifacts, The Polo Bar is known for its wide selection of wines, spirits, and cigars. It's a perfect place to unwind after a busy day, offering a selection of snacks and finger foods to accompany your drink.
Steam

Steam is Rambagh Palace's lounge bar set in a restored steam engine and Victorian-style station. This vibrant venue offers a selection of liquors, beers, and cocktails along with a variety of Mediterranean cuisines.
Conclusion
Rambagh Palace is not just about grandeur and royal living; it's also a haven for food lovers. All Rambagh Palace restaurants offer a unique dining experience, it caters to all taste buds and preferences. From authentic royal Indian dishes to international flavors, these restaurants in Rambagh Palace Jaipur ensure that every meal is a memorable one.