While planning your lavish wedding, you might have seen a lot of options, but have you considered having it at the Hyatt Regency Jaipur? Well, if not, then you must be missing something great. Hyatt Regency hotels and resorts are found in metropolitan and resort areas worldwide. They offer top-notch amenities and pleasant accommodations.
One of many properties of Hyatt is the Hyatt Regency in Jaipur. This property provides a fantastic combination of nature, history, and modern themes.
Hyatt Regency comes under the Hyatt hotel chain.

About Hyatt Regency
Depending on your desires, this property's opulent architecture can make your ideal wedding vast and extravagant. The interior of this property combines traditional and contemporary design elements.
| | |
| --- | --- |
| Rooms | 245 |
| Suites | 34 |
| Event Spaces | 7 |
| Location | ISCKON, Mansarovar, Jaipur, Rajasthan, India |
| Total Event Area | 5000 sq.m |
With over 245 rooms, including 34 suites, this property has 8 floors. All the suites are different in their design elements that are made to make your stay more comfortable.
Hyatt Regency is divided into two wings named Royal Wing and Tower Wing.
The Royal wing includes 65 Royal Rooms, 41 Regency Club Rooms, 9 Royal Deluxe Rooms, 14 Royal Majestic Suites, 7 Royal Prestige Suites, 4 Royal Diplomat Suites, and a Presidential Suite.

The Tower wing includes 96 Standard Rooms and 8 Regency Executive Suites.
Other than these extremely well-furnished rooms with different artworks, Hyatt also brings some beautiful wedding spaces. All the areas are affluent, combining traditional and modern architecture. Have a look at them.
The Imperial Room
The multi-functional area is ideal for large gatherings, corporate meetings, lifestyle events, and weddings.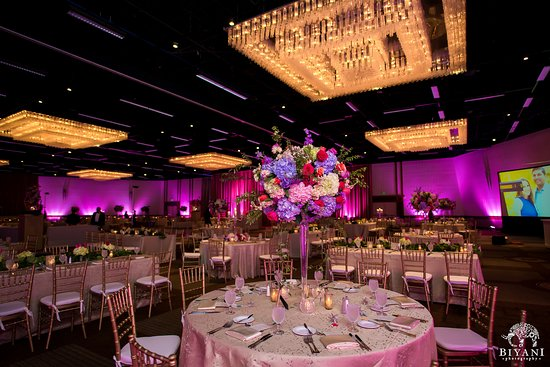 Regency Ballroom
The gorgeous lighting of the Regency ballroom, which covers 1082 square meters, will add glitz to your wedding celebrations.

The Manor
Manor is the smallest venue in the area of 236 sq. m. It will be perfect for any small private gathering.
Chauras Bagh
The majestic hotel façade can be seen as a backdrop on approximately 2100 square meters of groomed lawn, adding to the venue's opulence and grandeur.
Navras Bagh
Navras Bagh is a location with simultaneous views of both nature and water. It occupies an area of 850 square meters of land.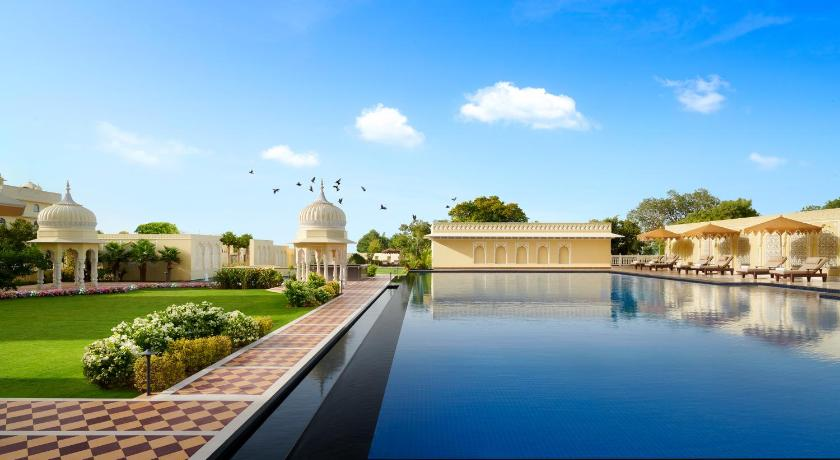 With these five different spaces, the Hyatt is one of the ideal venues for wedding celebrations.
The food and beverages department of Hyatt Regency-The all-day dining experience, a speciality restaurant with a dining experience under traditional Rajasthani chhatris on the terrace, a bakery, and a bar at the lobby level are highlights of the culinary offerings at the Hyatt Regency Jaipur Mansarovar.
The Royal Bakery and Bar
This offers classic cocktails inspired by hallmarks, coffee, bakeries, pastries, and cakes.
The North Club
It will make you revisit culinary delights that range from Portuguese-Goan cuisine, French-Pondicherry cuisine, and Anglo-Indian cuisine with a few glimpses of Dutch-Malabar. The menu also influences the Mughal and Rajputana eras. 
Shrot
Treats you with refreshing and regional delicacies sourced locally and cultivated naturally.
Coming on to the facilities that Hyatt provides you with:
Wi-Fi
Pool
Parking
Transfer
Local shuttle
Fitness center
Restaurant 24hrs
Room service
Complimentary Breakfast
Breakfast buffet
Front desk 24 hrs
Full-service laundry
Wake up calls
Housekeeping 24hrs
Spa
Air conditioning
Refrigerator
Coffee maker
Minibar
With an exclusive palatial decor of grand chandeliers, expansive gardens, scenic courtyards, and excellent services, Hyatt describes the royalty of its name in the property.
EndNote
The name Hyatt is opulent, just like the building. You can already sense the Hyatt Regency Jaipur's opulent atmosphere before entering. There is no spot for imagining a property more significant than the Hyatt if you require your celebrations to be regal. Make a reservation for this hotel as soon as possible to finish your festivities in style. Connect with weddinghues.in to get further information about locations and weddings and make your process easier.