---
Rambagh Palace Jaipur is a popular destination for celebrity weddings and events due to its luxurious and grand setting. The palace, which was once the residence of the Maharaja of Jaipur, is now a luxury hotel with well-maintained gardens, courtyards, and ornate architecture that exudes the royal charm of Rajasthan.

The palace also offers a range of amenities, including spacious rooms and suites, multiple dining options, a spa, and various recreational facilities. Its location in Jaipur, known as the "Pink City," also makes it an attractive destination for weddings and events, as the city is famous for its rich culture, vibrant colors, and picturesque landscapes.

Additionally, the palace has a reputation for offering excellent hospitality and personalized services, which is another reason why it's a preferred choice for celebrities.
The grand wedding of The Walt Disney Company India and Star India President K Madhavan's son

The wedding of the son of The Walt Disney Company India and Star India President K Madhavan at Rambagh Palace in Jaipur was attended by several A-listers of the Indian film industry, including Kamal Haasan, Mohanlal, Akshay Kumar, Aamir Khan, Prithviraj Sukumaran, and Karan Johar.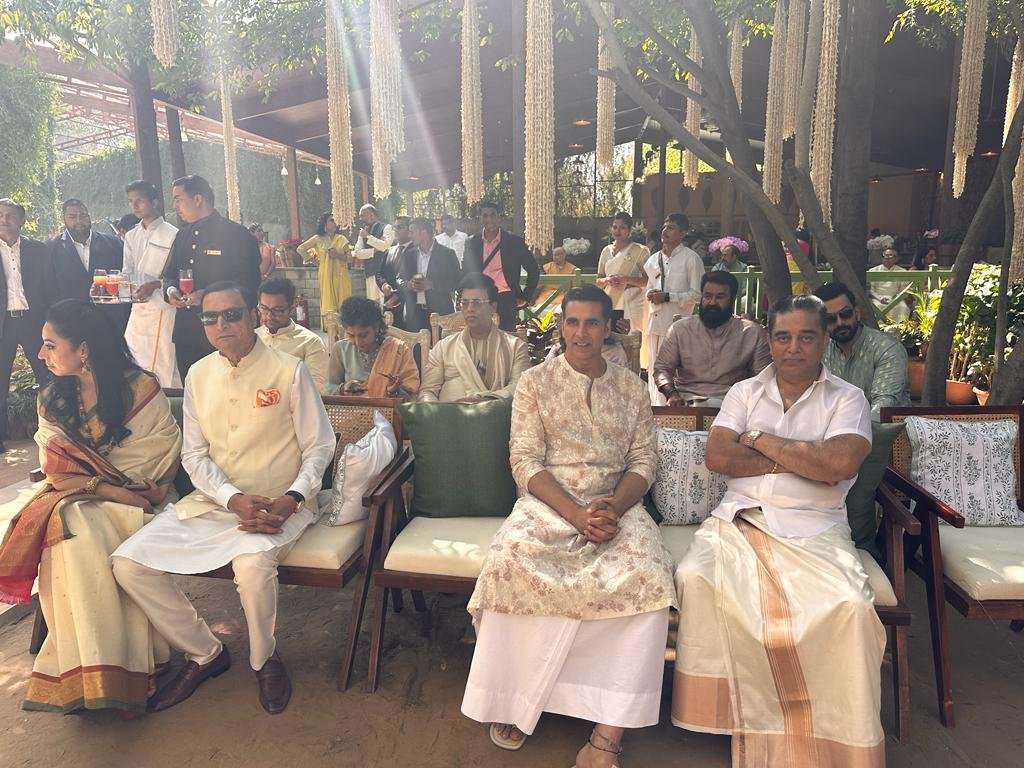 Akshay Kumar shared a video of himself performing bhangra with Mohanlal at the wedding, and more pictures of the actors surfaced on social media. The stars were dressed in traditional outfits and seen attending the wedding festivities together. Some photos and videos from the wedding show Akshay Kumar having a chat with Kamal Haasan, who is joined by Aamir Khan.

Some of the Bollywood stars that attended the wedding of Gautam Madhavan, son of K Madhavan, the managing president of The Walt Disney Company India and Star India, include Akshay Kumar, Aamir Khan, Kamal Haasan, Mohanlal, and Prithviraj Sukumaran. Other celebrities who attended the wedding include Karan Johar.
Singer-songwriter Raveena Mehta and Saaket Mehta (US Based Investor)

Singer-songwriter Raveena Mehta and US-based investor Saaket Mehta got married in a grand wedding ceremony held at the Rambagh Palace in Jaipur, Rajasthan.

Raveena Mehta wore a unique 16-'Kali' lehenga, a traditional Indian outfit for the wedding. She shared a series of pictures from her royal wedding on her Instagram handle, giving her followers a glimpse of the wedding ceremony and her stunning outfit. The wedding seems to have been a lavish and elegant affair at a luxurious venue.


The wedding was attended by the couple's close family and friends, including Govinda, Jackie Shroff, Jhanvi Kapoor, and Boney Kapoor.


The bride wore different lehengas designed by Abu Jani Sandeep Khosla, Manish Malhotra, and Dimple Amrin & Dimple Mehta X Haider Ali for different wedding events. Sweet Caterers, SATEC Events, and OMO Events managed the wedding and provided a gourmet experience, and executed the events with precision. The wedding took over a year to plan and was a grand affair full of glitz and glam.
Bollywood Producer Nidhi Dutta with Filmmaker Binoy Gandhi

Nidhi Dutta, the daughter of filmmaker-writer JP Dutta and actress Bindiya Goswami, will be getting married to director Binoy Gandhi on March 7 in Jaipur, with the sangeet ceremony on March 6. The wedding will take place at the same location where JP Dutta had proposed to Bindiya in the pink city, and under the same tree where the senior couple had professed their love for each other, followed by the proposal. Nidhi and Binoy had originally planned to exchange vows in December but postponed the wedding to 2021 due to the pandemic.


The bride-to-be has started sending out customized wedding invites, which include a rose quartz tray and a box of mithai with a shlok from a bhajan written by Nidhi's grandfather printed on the card. Nidhi and Binoy met on the set of a film he was making for Nidhi's company, where she also featured as an actress.
Praful Patel's Son's Wedding

Prajya Patel, the son of former union minister Praful Patel, is getting married to Shivika, the daughter of a Mumbai-based businessman, at the luxurious Rambagh Palace Hotel in Jaipur. The wedding has brought several VIP guests from the film industry and business world, with around 35 chartered planes being used to transport them to Jaipur.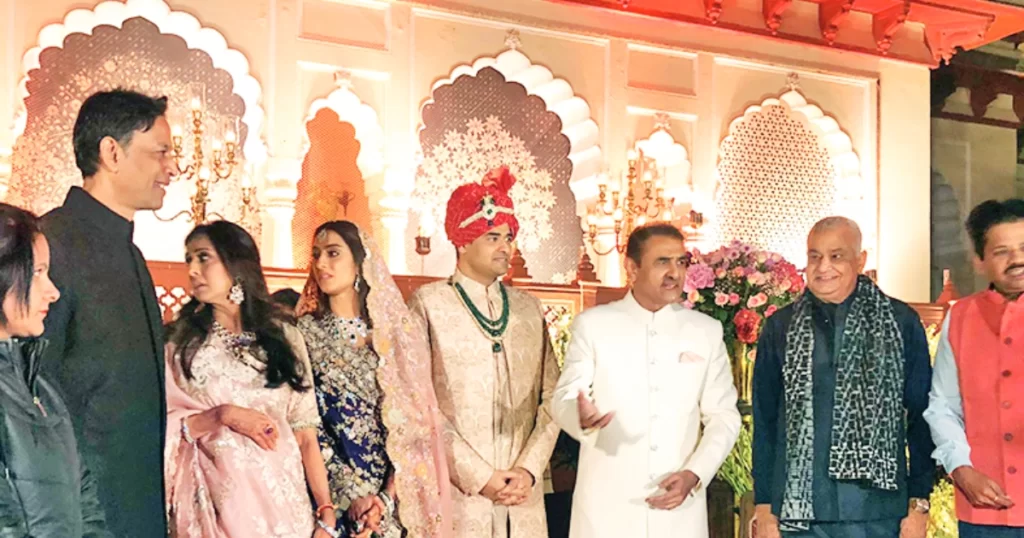 Among the guests are industrialists like Anil Ambani, Gautam Adani, and Anil Agarwal, as well as actors such as Shilpa Shetty, Anil Kapoor, and Salman Khan. The sangeet ceremony was held on Saturday, and the wedding is scheduled to take place on Sunday.

Security has been heightened at the Rambagh Palace Hotel to ensure the safety of the guests, and no outsiders have been allowed without proper verification.
Conclusion

Rambagh Palace Jaipur's USP as a wedding venue is its regal and luxurious ambiance, picturesque location, impeccable hospitality, and range of amenities and services that cater to high-end clientele. That's why Rambagh Palace Jaipur is the favorite destination for all A-listers. The palace's history and architecture add to its charm, making it a popular choice for celebrities and high-profile weddings. Additionally, the palace offers a range of customizable wedding packages that cater to the diverse needs and preferences of the clients. Its scenic beauty, coupled with the palace's grandeur, provides a perfect backdrop for capturing memories that last a lifetime.