Evolve Back Kamalapura is one of the most popular and possibly the most expensive places for hosting a perfect exotic destination wedding. You can travel back to the magnificent days of the Vijayanagara Empire in the 14th century. Allow the stone monuments of Hampi to tell you about what was once known as "the best-furnished city in the world."
Evolve Back Kamalapura Palace, Hampi is just 4 km from this UNESCO World Heritage Site and has a stunning backdrop of rugged forests and boulders, making it an ideal venue for a perfect exotic destination wedding. Its fort-like gateways, stone-paved boulevards, arched passageways, and regal chambers are reminiscent of a bygone yet great era's famous palaces. In this blog, you will get to know all about Evolve Back Kamalapura for a perfect exotic destination wedding. 
Let's dive in!
A Destination Wedding at Evolve Back Kamalapura

Evolve Back Resorts understands that the start of your new journey together requires the ideal location, therefore they've gone to great lengths to provide some of the most unique wedding experiences available. At Hampi, you will have the most luxurious wedding, which has been designed just for couples
seeking an epic romance in a regal environment. Its characteristics are one-of-a-kind encounters reminiscent of a bygone yet wonderful age.
Lavish Suites and Rooms
This would be a pilgrimage if God was in the details. There has been no expense spent in creating an absolute refuge of luxury for you while emphasizing the romance of ethnic style. Every small aspect, from architecture to interiors, fittings to bric-a-brac, has been flawlessly incorporated within a vernacular vision to ensure that your mind, body, and soul are infused with the 'Spirit of the land.' Let's have a look at their different suites:
➢ Jal Mahal

The Jal Mahal represents Vijayanagara architecture at its most opulent. The large Jal Mahal, inspired by the Water Palace within the Zenana Enclosure, features separate dining, living, and sleeping quarters, as well as a royal-sized bath with its own open courtyards. A romantic supper can be enjoyed on a private balcony with a Mantapa overlooking your personal pool. It's ideal for enjoying a special event with your family or a partner.
➢ Zenana

The Queen's quarters inspired Zenana, the most sumptuous suite in the main royal complex. It is divided into three sections: living, dining, and sleeping. These vast and spacious rooms offer their own private terrace and an en-suite bathroom with a private Jacuzzi. They're ideal for couples looking for romance in a historical atmosphere. 
➢ Nilaya

Nilaya is a large suite with its own living, dining, and bedroom spaces. Each suite has an in-room Jacuzzi that overlooks a private terrace in addition to a spacious en-suite bathroom.
Activities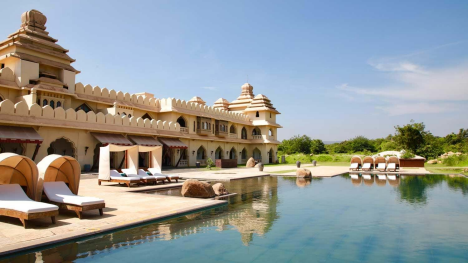 While the comforts of your villa can persuade you to believe passivity to be the best form of activity, Evolve Back has enough Spirit of the Land temptations to tempt you to leave your comfort zone. So, whether it's interactive storytelling sessions or an early morning wildlife safari; a visit to Hampi's Royal Enclosure or sharing make-up secrets with a local Kodava beauty; or a visit to the Royal Enclosure at Hampi or sharing make-up secrets with a local Kodava beauty The activities are designed to lure you out and help you become a part of the land's rich and diverse nature and culture.
Dining

Evolve Back's kitchens are known for their platters' creativity and sumptuousness. The Evolve Back repast offers a broad selection of the greatest in Indian and Continental cuisines, prepared with the freshest and finest ingredients and presented in some of the most stunning locations. Chefs conjure delights inspired by the local food idiom, giving the meal a distinctive vernacular flavor. 
Summary
Getting married in the luxurious setting of Evolve Back Kamalapura is a dream come true! With its Vijayanagara-style building, the Evolve Back Kamalapura Palace delights you with raw, traditional-themed luxury. The experience given by this ultra-luxurious boutique hotel is best described as royal. Simply put, this resort allows you to experience the luxury and beauty of a bygone but brilliant era.