Alsisar Mahal (Shekhawati) is a classic royal wedding location in full regal grandeur for those looking for a Majestic site for a Royal Wedding in full regal glory. Guests will have a delightful and memorable experience planning or attending a royal wedding celebration at the majestic Alsisar Mahal Shekhawati in Rajasthan. It is undoubtedly one of the most ideal locations for an unforgettable wedding, with well-preserved palaces and forts offering a beautiful background to a fairytale wedding with memories to last a lifetime. 
The Alsisar Mahal Shekhawati is a heritage property in Jhunjhunu, Rajasthan. It is the essence of grandeur and regality, reflecting both traditional and contemporary principles of hospitaliexty and majesty. The Alsisar Hotels provide a diverse choice of exotic settings, each with its own regal ambiance and historical significance. We'll go over all you need to know about Alsisar Mahal Shekhawati for a perfect exotic destination wedding in this blog. 
Let's dive in!
Amazing History of Alsisar Mahal Shekhawati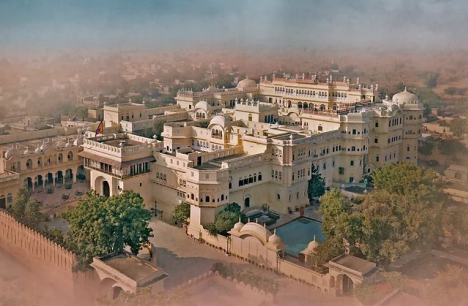 The stunning and breathtaking "Alsisar Mahal" rises from the historic and artistically rich terrain of Shekhawati's Alsisar hamlet. The battle-hardened Alsisar Mahal, built in the 17th century, stands tall with its magnificent grandeur and breathes a great history that they are proud of. Even now, the fort's historic walls resound with amazing tales of courage, intrigue, and sacrifices.
Alsisar Mahal is an unrivaled entryway to Rajasthan's Royal Lifestyle Holidays, with jaw-dropping frescoes, big courtyards, majestic dining arcades, and attractive heritage rooms and suites, all of which testify to the richness of royal Rajasthani hospitality with full-throated ease. The palace, which has retained its original charm and elegance, displays many episodes of past grandeur and heroism, the rich history of the Shekhawat dynasty being carried on by members of the family ALSISAR.
Perfect Exotic Destination Wedding at Alsisar Mahal Shekhawati

Getting married on this historic property is like something out of a fantasy wedding. The royal architecture and beautiful frescos of Alsisar Mahal leave guests speechless. From the Badal Mahal, the palace's highest room, to the World War 2 Lounge, the facility provides a one-of-a-kind hospitality experience for its distinguished guests. Whether it's an Alsisar Mahal destination wedding or a wedding at the hotel, the hotel staff always puts their best foot forward when it comes to providing top-notch service and cutting-edge facilities. 
It offers a wide range of services to its prestigious guests. With its well-trained and skilled hotel personnel, make the most of your wedding experience at this regal property. At Alsisar Mahal, your wedding fantasies might become a reality.
Lavish Accommodations

You will feel like you've been transported to a time of primacy and grandeur the instant you walk into Alsisar Mahal, the imperial reception hall. An environment that would exude the same imperialism that the monarchy's nobles felt during the monarch's reign. The corridor will direct you to the royal Rajputana rooms and suites, where you will enjoy heavenly luxury vacations with majestically done up fine artwork on the walls and ceilings narrating tales of opulent past and regal furnishings with expert carving. The chambers exude a different level of luxury than that which nobility and their heirs are accustomed to. Each room at Alsisar Mahal is a lavish experience in and of itself, with all modern conveniences in perfect harmony with opulent elegance.
Several Activities for Your Guests
Here are some several activities for your guests to enjoy in free time:
➢ Camel Cart Safari

Camel carts are available to provide a real village experience by transporting you through Alsisar's quaint, intriguing pathways. In Alsisar, a village safari on a camel cart allows you to get a close look at local life by talking, eating, taking pictures, and participating in various household activities with the inhabitants.
➢ Folk Dances & Music Performance

Rajasthan and its music are vibrant, rustic, and appealing due to the enormous mix of cultures it has hosted. Watching a Rajasthani folk musician play local folklore tunes on Algoza transports you to the chivalrous era of Rajasthan's regal period, leaving you captivated or tickled. 
➢ Heritage Tour

Explore Alsisar's fascinating past; it's waiting to be found and shared. Guests can visit ancient sites, temples, cenotaphs, and Havelis on the Alsisar village history route. It also allows you to sneak some time to go to street markets and collect local items and souvenirs.
Conclusion
Nothing could be better than a big start to your married life. So don't miss out on this once-in-a-lifetime chance to marry your sweetheart in this lovely location. Alsisar Mahal Shekhawati can handle everything from traditional ceremonies to cocktail parties in the most inventive way. Plan a perfect exotic destination wedding at Alsisar Mahal Shekhawati and enjoy every moment to the fullest.